The Digital Frog 2.5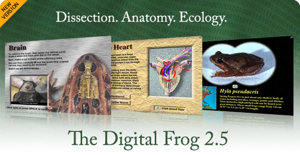 The interactive Digital Frog 2.5 allows students to perform a virtual frog dissection by using a digital scalpel. Students are not just shown how to perform a frog dissection. This virtual dissection program allows them to simulate the same cuts made in an actual dissection. Every step of the dissection is clearly illustrated with full-screen video to reinforce what they have just done. The interactive dissection is linked to a comprehensive anatomy and physiology section, with human anatomy comparison, to find both differences and similarities. More than 100 screens of anatomy are available and every major body system is covered in great detail, from overviews down to cellular division. The body systems are: Circulatory System; Control System; Digestive System; Endocrine System; Immune System; Nervous System; Respiratory System; and Urogenital System. The Anatomy module, with its animation, movies, photographs and in-depth text, links from the dissection, providing a close-at-hand resource as students work through the dissection. Animations and interactions allow students to see how the frog's body works, from blood pumping through the heart, to joints that can be built up and moved by the user. The ecology section reminds students that biology is the study of living organisms. The program also includes word definitions and spoken pronunciations on significant words. This version builds on technology advances  with high resolution graphics, full screen video, animation, sounds, narration, in-depth text, still images and interactive quizzes. The CD includes: Overview; Dissection; Anatomy; Ecology; Comparison; What people are saying. Includes a Find feature allowing the user to quickly jump to the screen by typing in the topic of interest. All workbook materials are included, allowing the user to print just when it is needed. The Digital Frog 2.5 workbook acts as an study guide.
Comments & References: Suitable for Middle School to University students. Also useful for zoos and zoologists as a teaching tool, biologists, librarians and those interested in frog anatomy. Please see pathologist Nancy Harrison's video on the highlights and benefits of the The Digital Frog 2.5. Running Time: 6:57 minutes. Please also see Digital Frog International's demonstration video, Running Time: 4:40 minutes. Please click here for System Requirements. This item may be borrowed for up to 6 weeks through the Alternative Loan System of the International Network for Humane Education (InterNICHE), free of charge, but return postage must be paid by the person who has borrowed the product. Please note that there are practical limitations on where some items can be sent. Please contact loansystem@interniche.org and see http://www.interniche.org for more information.
Item: SKU-F25C-EDLIFE
Price: US$155.00 each; Loan Program: Free of charge
Please see this overview of online resources for home learning
See also:
Frog Dissection, Virtual Frog (V-Frog), Virtual Frog Dissection Kit
Norecopa holds information on a large number of other alternatives to frog dissections and information on other dissection alternatives. We also have information on:
Try our search engine if you can't find what you're looking for.
Free of charge Loan Program: Free of charge
This page was updated on 02 April 2020
Did you find what you were looking for?
Yes, I found it!
No, I did not!
Thanks for your feedback! Please note that we cannot respond unless you supply your email address.
Thanks for your feedback! Please note that we cannot respond unless you supply your email address.