Do Fish Feel Pain?
By Braithwaite, Victoria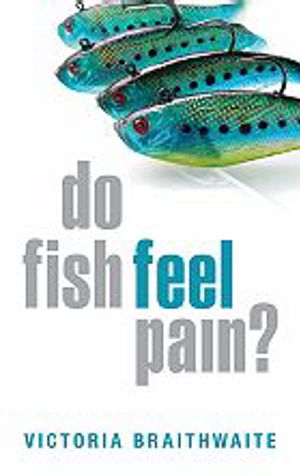 In this textbook, biologist Victoria Braithwaite explores the question of fish pain and fish suffering, explaining what science can now tell us about fish behaviour, and examining the related ethical questions about how we should treat these animals. Fish have in the past been portrayed as slow, cold automata with very simple brain that generates stereotyped behaviour. But Braithwaite presents new scientific evidence that seriously challenges this view. There is a growing body of science demonstrating that fish are far smarter and more cognitively competent than we have previously suspected. Several fish species are surprisingly intelligent and research has shown that they can have both accurate and long term memories, which in some cases, such as migrating salmon, can span years. The author demonstrates that fish have more in common with other vertebrates than we think. Their overall physiology, fo instance, shares many similarities with other vertebrates, even ourselves. The way fish respond to stressful situations, the so-called "stress response", is strikingly similar.  
After having experienced a stressful event, humans release cortisol into the blood, and the same is true in fish. Each year millions of fish are caught on barbed hooks and left to die by suffocation on the boat decks.   While there has been increasing interest in recent yearss in the welfare of mammals, fish are thought to be different. Victoria Braithwaite is one of the key scientists working on fish pain and she is actively involved with both the fishing industry and the angling world, helping them to sort through the implications of these findings. Her conclusion is that the scientificevidence suggests that we should widen to fish the protection currently given to birds and animals.  
Table of Contents: 1 The Problem; 2 What is pain and why does it hurt?; 3 Beestings and vinegar: the evidence that fish feel pain; 4 Suffer the little fishes?; 5 Drawing the line; 6 Why it took so long to ask the fish pain question - and why it has to be asked; 7 Looking to the future.
256 pages. Hardcover. Book Review. Available from Amazon. 
ISBN-13: 978-0-19-955120-0; ISBN-10: 0-19-955120-0
Price: £14.99

Year: 2010
This page was updated on 12 October 2022
Fant du det du lette etter?
Ja, jeg fant det!
Nei, jeg fant det ikke!
Takk for din tilbakemelding! Vær oppmerksom på at vi ikke kan kontakte deg hvis ikke du oppgir din epostadresse.
Takk for din tilbakemelding! Vær oppmerksom på at vi ikke kan kontakte deg hvis ikke du oppgir din epostadresse.