The Göttingen Minipig: Histology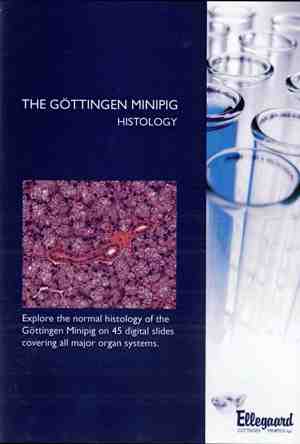 This set contains 45 slides on three DVDs and covers all major organ systems.   Demonstrates normal histology of minipigs.   All slides are scanned at 20x and are stained with Haematoxylin and Eosin.   The user can zoom in at any region and magnification (max 20x).   Users can also apply image enhancement for contrast, brightness and gamma, add their own annotations and perform image analysis.   Table of Contents: DVD 1: 1 Eye and optic nerves; 2 Eye and optic nerves; 3 Pituitary, adrenals, cervical, thoracic and lumbar spinal cord; 4 Thyroid and parathyroid; 5 Sciatic nerve; 6 Brain - frontal section; 7 Brain - median section; 8 Cerebellum; 9 Mesenteric lymph node and pancreas; 10 Thymus; 11 Mandibular lymph node; 12 Mandibular and sublingual salivary glands; 13 Parotid glands; 14 Stomach, esophagus, ileum with Peyer's patch; 15 Duodenum and jejunum; DVD 2: 16 Colon, caecum and urinary bladder; 17 Testis; 18 Testis; 19 Epididymis; 20 Epididymis; 21 Prostate and seminal vesicles; 22 Ovaries and oviducts; 23 Uterus; 24 Uterus - cervix; 25 Left kidney (transversal secton); 26 Kidney; 27 Ureters; 28 Liver, gall bladder, spleen; 29 Aorta; 30 Tongue and rectum (male); DVD 3: 31 Vagina, tongue, rectum (female); 32 Heart: auricles; 33 Heart: left ventricle; 34 Heart: right ventricle, septum; 35 Skeletal muscle, skin, mammary gland; 36 Trachea, bronchus; 37 Lungs; 38 Stomach (cardia); 39 Dorsal cervical lymph node; 40 Subiliac  lymph node; 41 Injection site (subcutaneous route); 42 Injection site (subcutaneous route); 43 Sternum with bone marrow; 44 Femur and articulation; 45 Larynx.   
Comments & References: The software (Imagescope) needed to view the images is included.   An Installation Guide is included.   For more information, please contact Ellegaard Göttingen Minipigs at ellegaard@minipigs.dk.
Price: Eur 65.00 (+ shipping and handling)
This page was updated on 20 December 2019