This page and the sections below are being used to collect links to resources concerned fish as research animals.
Please use the menu above for resources on wild fish and other aquatic species.

Guidance on planning experiments on fish is available in the PREPARE guidelines.
Resources about:

Additional items:
Focus on Fish - practical refinements for fishes in research and testing. Meetings organised by the RSPCA in 2021 (website and recording) and 2022 (website).
Textbooks about fish in research may be found in the TextBase database. Here are examples of searches for "fish", "zebrafish" and "medaka".

Educational and training resources can be found in the NORINA database. Here is an example of a general search for "fish" (use the filters in the right margin to narrow the search results).
Severity classification of procedures used on fish
ENRICH Fish: a project financed by the Research Council of Norway to improve the welfare of Atlantic salmon used in laboratory experiments
Information about projects in Norway concerning fish research
Other literature references and links:

Poster from an RSPCA meeting in 2021: Focus on Fish. The poster can be downloaded here.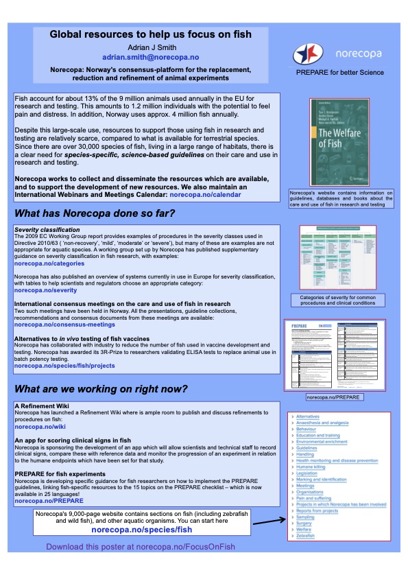 This page was updated on 05 July 2023