Non-Animal Technologies Database (NAT)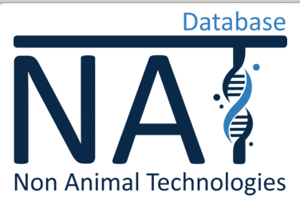 The NAT (Non-Animal Technologies) database contains information on modern non-animal technologies from various areas of biomedicine and life sciences, based on scientific studies and publications. NAT is a free, publicly available database containing various non-animal research methods that are developed worldwide. These include, for example, modern in vitro methods based on human cells or in silico approaches utilizing computer models. Diverse research areas are listed, encompassing methods developed by universities and research institutes as well as commercially available or regulatory accepted techniques. Each database entry contains a summary of the research method, information about where it was/is developed and the respective contact details. The sources on which the entry is based as well as the publication date and suitable keywords are provided.
The database has been online since 29 July 2020 and is constantly being updated and expanded with new methods. Each database entry contains information on the corresponding sources. These are mostly scientific publications, but also press releases from universities or research institutions, products or services from companies in the life science industry and contributions from specialized portals.
The database is intended for scientists and physicians from all disciplines as well as for authorities, politicians and the general public. The NAT Database highlights human-based research methods and provides the possibility of networking and establishing contacts with researchers, companies and agencies in this field. Scientists, physicians and students interested in human-based research can explore available NATs and can contact researchers who already work with these methods. Regulatory authorities can get informed about human-based alternative methods for achieving particular research goals before approving animal testing applications. Politicians can get an overview of how advantageous and reliable non-animal methods are for predicting the safety and efficacy of chemicals, active ingredients and medicines. Funding agencies and foundations can see for themselves how efficient these methods are despite currently low funding and shift the (public) funding focus towards these innovative methods. The general public can get an impression of the variety of human-based, non-animal methods.
This page was updated on 17 August 2020
Did you find what you were looking for?
Yes, I found it!
No, I did not!
Thanks for your feedback! Please note that we cannot respond unless you supply your email address.
Thanks for your feedback! Please note that we cannot respond unless you supply your email address.