CIRS-LAS: Critical Incident Reporting System in Laboratory Animal Science
CIRS-LAS is the world's first published, web-based system for reporting critical incidents in connection with laboratory animal studies. It therefore plays an exemplary pioneering role in the implementation of the 3R principles of Reduction and Refinement: reducing the number of animals used in research and improving animal safety.
Anyone working with laboratory animals can share anonymously critical incidents and negative experiences from animal experiments or animal husbandry on the CIRS-LAS website. An expert panel comments upon the incidents and then gives assistance to avoid further critical incidents. This encourages constructive open dialogue and support between scientists, technical assistants and other experts, avoiding the repetition of critical incidents.
Furthermore, the implementation of CIRS-LAS serves to enhance the trust in laboratory animal science among both the general public and the scientific community, due to the transparency.
The need for a critical incident reporting system (CIRS) in laboratory animal science is clear, since approximately 11 million animals are used annually for scientific purposes in Europe alone. More than 100 persons working with laboratory animals in Europe have already registered and are taking part in the project (December 2019).
The objective of CIRS-LAS is therefore to detect critical incidents throughout the use of animals in research, and therefore help to avoid them in the future.
Please sign up on https://www.cirs-las.de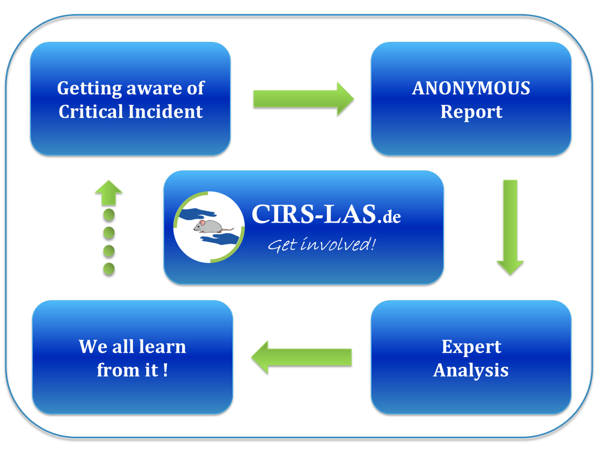 This page was updated on 05 July 2023