Severity classification of procedures
The EU Directive 2010/63 on the protection of animals used for scientific purposes states  that all procedures are to be classified into categories according to their severity (Article 15).
In July 2009 an expert group commissioned by the EU met to produce guidelines for the severity classification of procedures used on animals in research. Their report is available here.
This report focuses on procedures that are used on the traditional laboratory animals. There are a number of procedures commonly used in fish research that are not mentioned in the report.
The RSPCA has constructed a comprehensive website entitled Focus on Severe Suffering, in collaboration with LASA, LAVA and IAT, with ideas on how to reduce or avoid severe suffering. The website is designed to help all those involved with research animal use, care or regulation, but on some topics information is tailored for researchers, animal technologists or veterinarians, and members of ethics or animal care and use committees.
In September 2009, Norecopa arranged an international consensus meeting entitled Harmonisation of the Care and Use of Fish in Research. A consensus document was issued after this meeting, where the participants concluded, among other things, that a working party should be appointed to produce a complementary report that focuses on procedures used in fish research.
The working group finished its report in December 2010. It has been published in the journal Laboratory Animals and is available for free download (Open Access) thanks to sponsorship from Laboratory Animals Ltd.:
Guidance on the severity classification of scientific procedures involving fish: report of a Working Group appointed by the Norwegian Consensus-Platform for the Replacement, Reduction and Refinement of animal experiments (Norecopa).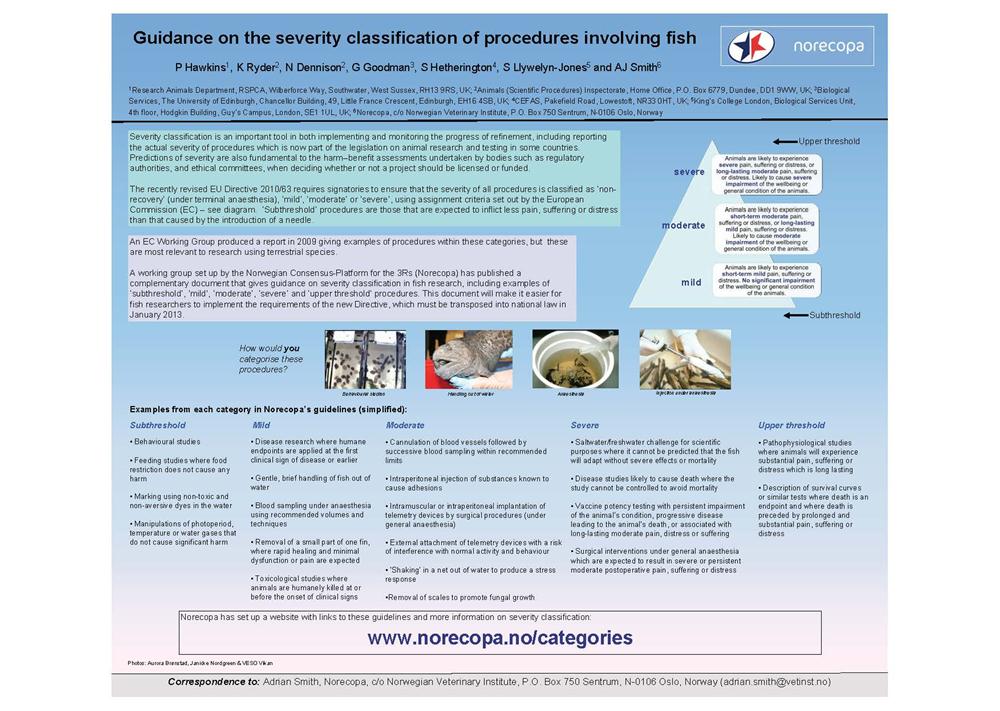 A poster describing the severity classification of procedures involving fish was presented at the 8th World Congress on Alternatives and Animal Use in the Life Sciences, held in Montreal 21-25 August 2011. The poster may be downloaded here, with permission from the organisers.
FELASA/ECLAM/ESLAV Report on the classification and reporting of severity experienced by animals used in scientific procedures The rationale behind this report is based upon the fact that the examples of severity classification given in Annex VIII of the EU Directive are limited in number and often relate to the procedure rather than assessing its outcome. The aim of the report is to deliver guidance on the assignment of severity, both prospectively and at the end of a procedure.
Guidelines on severity assessment and classification of genetically altered mice and rat lines
UK Home Office advisory notes on actual severity reporting of regulated procedures  
UK Home Office advice on severity assessment of genetically altered animals

More links to resources on severity assessment
A lecture on severity classification, held by Norecopa's secretary at the annual Scand-LAS meeting in 2012, can be downloaded here.
An overview of systems for severity classification
The experience of recent years shows that severity classification is still insufficiently harmonised within the EU. Even among experts, animal procedures are often evaluated very differently. Consistent severity assessment and classification of procedures are essential for the ethical review process, and an indispensable part of planning, refining and evaluating animal experiments. Annual statistics of animals used in scientific research are intended to inform the public about the harms inflicted. Severity classification plays a crucial role in this process, and increased harmonisation should be sought.
As a first step, we are collecting and comparing severity classifications which have been published for use in Europe. We are initially focusing on severe discomfort, and harmful phenotypes of genetically altered animals. The overview will aid identification of areas where more research is needed, and will stimulate discussion so that additional information is submitted. This will hopefully lead to the refinement of the criteria used for severity classification.
The overview will be made available online here during the Spring of 2019.
This work is the result of a collaboration between Anne Zintzsch (ICAR3R, Giessen), Jan-Bas Prins (Leiden University Medical Centre and the Francis Crick Institute) and Adrian Smith (Norecopa).
Did you find what you were looking for?
Yes, I found it!
No, I did not!
Thanks for your feedback! Please note that we cannot respond unless you supply your email address.
Thanks for your feedback! Please note that we cannot respond unless you supply your email address.