Laboratory Animal Anaesthesia, 4th Edition
By Flecknell, Paul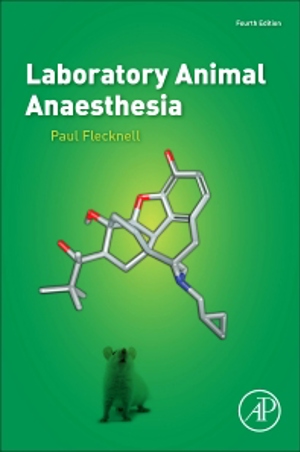 This book provides procedures, key points and invaluable advice from a well-known and respected veterinary anaesthetist and scientist with more than 30 years of experience in the field. This Fourth Edition is updated with effects of anaesthetics in various laboratory animal species, including sources of dose rates incorporated into tabular material. New information on pain assessment and pain management is covered, with increased emphasis on anaesthesia and perioperative care in rats and mice. For the Table of Contents, please click here.
4th Edition. 350 pages. Available as a Hardcover, an eBook and as a Hardcover + eBook. Updated and revised. Full colour illustrations. The book provides a basic guide to anaesthesia for a very diverse audience. Suitable for researchers, graduate students and veterinarians in all fields of biological and biomedical research, animal technicians, animal care staff, veterinary anaesthetists, and veterinarians.
A fifth edition of this book is now available.

ISBN: Hardcover: 978-0-1280-0036-6; eBook: 978-0-1280-0578-1
Price: Hardcover: €118.00; eBook: €108.00; Hardcover + eBook: €113.00

Year: 2015

This is one of our favourite textbooks within Laboratory Animal Science.
This page was updated on 19 July 2023