Sourcebook of Models for Biomedical Research
By editor Conn, P. Michael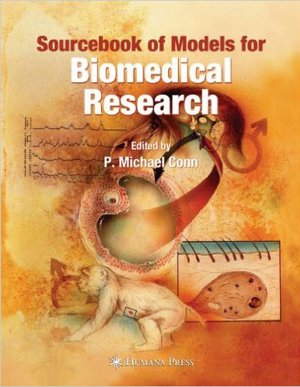 This book offers a reflection of the diversity and utility of models used in biomedicine. That utility is based on the consideration that observations made in particular organisms will provide insight into the workings of other, more complex systems. Some models have the advantage that the reproductive, mitotic, development or aging cycles are rapid compared with those in humans; others are utilised because individual proteins may be studied in an advantageous way and have human homologs. Other organisms are facile to grow in laboratory settings, lend themselves to convenient analyses, have defined genomes or present especially good human models of human or animal disease. This book is a comprehensive and extensive collection of these important medical parallels.
The book contains the following chapters:
Animal Models for Human Diseases
Selection of Biomedical Animal Models
Improved Models for Animal Research
The Ethical Basis for Animal Use in Research
Bibliographic Searching Tools on Disease
Models to Locate Alternatives for Animals in Research
NIH Policies on Sharing of Model Organisms and Related Research Resources
Databases for Biomedical Animal Resources
Psychological Enrichment for Animals in Captivity
Integrated Network Modeling of Molecular and Genetic Interactions
The Sponge as a Model of Cellular Recognition
Sea Urchin Embryo
Caenorhabditis elegans
Models of Human Neurodegenerative Diseases
Zebrafish as a Model for Development
Zebrafish as a Model for Studying Adult Effects of Challenges to the Embryonic Nervous System
Modeling Cognitive and Neurodegenerative Disorders in Drosophila melanogaster
Biomedical Research with Honey Bees
Establishing and Maintaining a Xenopus laevis Colony for Research Laboratories
The Chicken as a Model Organism
Rat Knockout and Mutant Models
Rodent Genetics, Models, and Genotyping Methods
The House Mouse in Biomedical Research
Mouse Model for Alzheimer's Disease
Guinea Pigs as Models for Human Cholesterol and Lipoprotein Metabolism
Reliability of Rodent Models
The Domestic Cat, Felis catus, as a Model of Hereditary and Infectious Disease
Swine in Biomedical Research
The Minipig as an Animal Model in Biomedical Stem Cell Research
The Nonhuman Primate as a Model for Biomedical Research
Primates as Models of Behavior in Biomedical Research
Primate Models for Understanding Brain Mechanisms of Cognitive Behavior
Animal Models for Eye Diseases and Therapeutics
Animal Models of Noise-Induced Hearing Loss
Human and Animal Models for the Study of Muscle Pain
Animal Models of Parkinson's Disease
Transgenic Animal Models of Neurodegenerative Diseases
Animal Models of Nociception and Pain
Nonmammalian Models for the Study of Pain
Animal Models of Vascular Development and Endothelial Cell Biology
Models of Behavior Animal Models for Atherosclerosis, Restenosis, and Endovascular Aneurysm Repair
Transgenic mouse models of HIV-1/AIDS and cardiac performance
Primate Models for the Assisted Reproductive Technologies and Embryonic Stem Cell Biology
Rat Models of Polycystic Ovary Syndrome
Murine Models for Reproduction
Comments & References: 537 pages. Available as a Hardcover and as an eBook. Suitable for pharmaceutical and academic researchers across a wide range of biological fields. Each chapter may be purchased separately.
ISBN: Hardcover: 978-1-58829-933-8; eBook: 978-1-59745-285-4
Price: Hardcover: US$409.00; eBook: US$319.00; Individual chapter: US$29.95

Year: 2008
This page was updated on 20 March 2020
Did you find what you were looking for?
Yes, I found it!
No, I did not!
Thanks for your feedback! Please note that we cannot respond unless you supply your email address.
Thanks for your feedback! Please note that we cannot respond unless you supply your email address.