The Laboratory Mouse
By Edited by Hedrich, Hans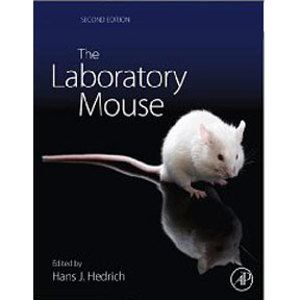 This edition offers new and updated chapters including immunology, viruses and parasites, behavior, enrichment and care standards of laboratory mice across the life sciences, medical and veterinary fields. Laboratory Mouse, Second Edition is a comprehensive book written by international experts. With inclusions of the newly revised European standards on laboratory animals, this will be the most current, global authority on the care of mice in laboratory research.
Table of Contents: Front Matter; Copyright; List of Contributors; Foreword; Preface; Part 1: History and Genetics; Part 2: Anatomy and Normative Biology; Part 3: Neoplasms and Infectious Diseases; Part 4: Husbandry and Maintenance; Part 5: Procedures; Part 6: Legal Regulations; Index.
Second Edition. 872 pages. Well-illustrated. Available as a Hardcover + eBook, Hardcover, and as an eBook (VST format, DRM Free included formats: ePub, Mobi, PDF). To purchase this book, please click here. Also avialble as an eTextbook at Amazon. Published by Academic Press, now part of Elsevier.
ISBN: Hardcover: 9780123820082, eBook: 9780123820099
Price: Hardcover: €253.00, eBook: €230.00, Hardcover + eBook: €241.50

Year: 2012

This is one of our favourite textbooks within Laboratory Animal Science.
This page was updated on 20 October 2022