The Laboratory Zebrafish
By Harper, Claudia and Lawrence, Christian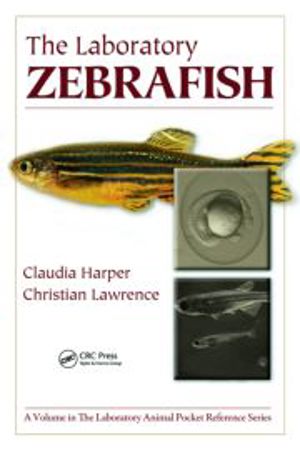 This book covers all aspects of the laboratory zebrafish, including basic biology, humane care and management, husbandry, life support systems, regulatory compliance, technical procedures, veterinary care, and water quality management. In the relatively brief span of only a few decades, the zebrafish has gone from being mainly a hobby fish to a mainstream model animal employed by scientists to study everything from stem cells to the basis of behavioral changes induced by drug addiction. This rapid advance has been fueled largely by numerous and impressive advances in technology, along with detailed characterization of the animal on a genetic and molecular level. These developments have allowed scientists to leverage the many advantages of the zebrafish system to address many important questions in biology and human genetics and disease. However, there are few accepted and established standards for husbandry, management, and care for the fish in laboratory settings and even fewer comprehensive and constantly reliable resources. The aim of this book is not to set standards, but rather to support those working with the fish with scientifically grounded principles and fundamental information that can be used to design sound fish care programs. This handbook is organized into seven chapters: Biology; Husbandry; Life Support Systems; Management; Veterinary Care; Experimental Methodology; and Resources. The final chapter, "Resources", provides the zebrafish user with lists of sources of additional information on the zebrafish model, as well as key references, professional organizations, and suppliers of equipment and supplies used in zebrafish husbandry and care. Please click here for the Table of Contents. The goal of this handbook is to provide the reader with a reference on zebrafish biology, care, husbandry and management.
Comments and References
: First Edition. 274 pages. 91 illustrations. Available as Paperback and eBook. The eBook may be
purchased here
. Suitable for managers, veterinarians, investigators, technicians, and regulatory personnel. Part of the
Laboratory Animal Pocket Reference
Series.
ISBN: Paperback: 978-1-4398-0743-9; eBook: 978-1-4398-0744-6
Price: Paperback: US$53.96; eBook: from US$27.00

Year: 2010
This page was updated on 26 March 2020
Did you find what you were looking for?
Yes, I found it!
No, I did not!
Thanks for your feedback! Please note that we cannot respond unless you supply your email address.
Thanks for your feedback! Please note that we cannot respond unless you supply your email address.