Information material about Norecopa
This page presents information material which may be used freely to promote Norecopa. We have produced brochures describing our activities in English and in Norwegian. These and all other information materials may be downloaded and used freely.
Norecopa: A global knowledge base of resources for improving animal research and testing (Smith, 2023)
See also the page About Norecopa.
We are on Twitter, LinkedIn and Facebook.
These videos (each approx. 15 minutes) are recordings of presentations held in August 2021:
Older material

Click on the image below to download a pdf file.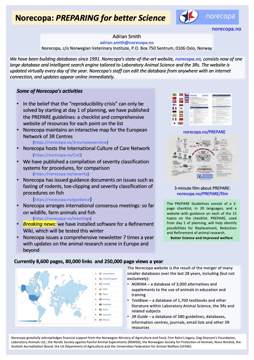 *The posters were designed to be printed in up to 80x110cm format.
Material in Norwegian used by Norecopa in connection with the media and political issues, in particular the annual public hearings about next year's state budget, organised by the Standing Committee on Business Affairs (Næringskomitéen) is available here.
Norecopa has published a number of chronicles and letters in Norwegian media. These are archived on the Norwegian version of this page.
This page was updated on 18 July 2023