This page can also be accessed from https://norecopa.no/coc/resources

Resources produced by the International Culture of Care Network:
Other publications by Network members:

Other resources:
The win-win-win-win scenario of a Culture of Care for animal research (a 44-minute presentation by Nuno Henrique Franco)
EU Commission Guidance Document on Animal Welfare Bodies and National Committees (pages 16-18)
Tremolada et al. (2022): New perspectives for teaching Culture of Care and their strengths and challenges
Tremoleda JL & Kerton A (2021): Teaching a culture of care: Why it matters. Rev. Bio. y Der. 51: 43-60.
Robinson S et al. (2020): The European Federation of the Pharmaceutical Industry and Associations' Research and Animal Welfare Group: Assessing and benchmarking 'Culture of Care' in the context of using animals for scientific purpose.
Brown MJ et al. (2017) Developing a Collaborative Culture of Caring. In Management of Animal Use and Care Programs in Research, Education and Testing
Narver HL et al. (2017): Tributes for animals and the dedicated people entrusted with their care: a practical how-to guide
Louhimies S (2015): Refinement facilitated by the Culture of Care. ALTEX Proceedings of the EUSAAT 2015-Linz 2005 Congress, 20-23 September, Linz, 4(2), 154.
Brown M (2014): Creating a Culture of Care.
Klein HJ & Bayne KA (2007): Establishing a Culture of Care, Conscience, and Responsibility: Addressing the Improvement of Scientific Discovery and Animal Welfare Through Science-Based Performance Standards ILAR Journal, 43(1), 3-11.
National Animal Ethics Advisory Committee of New Zealand (2002) A Culture of Care: A guide for people working with animals in research, testing and teaching
Herzog H (2002): Ethical Aspects of Relationships Between Humans and Research Animals. ILAR Journal, 43, 27-32.
ILAR Journal (2002): Implications of Human-Animal Interactions in the Laboratory. Volume 43, Issue 1.
NHS (UK): The "Going Home Checklist"
Federation of Veterinarians in Europe (2020): Ten Tips on Maintaining Mental Health. Written in connection with the COVID-19 pandemic.
AALAS Training session: Compassion Fatigue: The Cost of Caring
Compassion fatigue in laboratory animal research (webinar by Megan LaFollette)
Compassion Fatigue: Education and Engagement in Animal Research (webinar by Marian Esvelt)
Posters about humane care from Charles River
Resources about compassion fatigue from the NA3RsC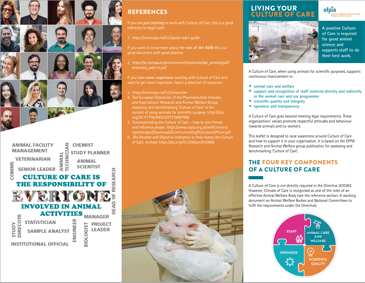 EFPIA (the European Federation of Pharmaceutical Industries and Associations) has produced a leaflet introducing the concept of a Culture of Care. EFPIA have also a website about animal use and welfare, with more information about their views on a culture of care.
This page was updated on 13 October 2022
Did you find what you were looking for?
Yes, I found it!
No, I did not!
Thanks for your feedback! Please note that we cannot respond unless you supply your email address.
Thanks for your feedback! Please note that we cannot respond unless you supply your email address.