This image highlights four pillars of good science, embracing both animal welfare and care for the personnel involved.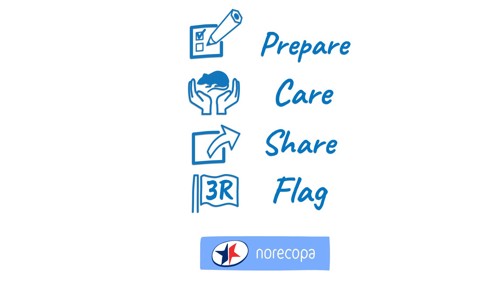 PREPARE - Ensure that scientists and animal care staff collaborate from day one to PREPARE properly
CARE - Encourage a strong Culture of Care
SHARE - make sure that examples of improvements in care and use of animals are published, for example by using the Refinement Wiki
FLAG - encourage scientists to highlight all advances made within the three Rs in their papers, or in separate Methods pages
This presentation to the IAT Congress in March 2021 expands on these principles.
The icons may be used freely, without the need to seek further permission. Appropriate credit to Norecopa is appreciated. The icons can be downloaded here:
PREPARE: jpg - mp4
CARE: jpg - mp4
SHARE: jpg - mp4
FLAG: jpg - mp4
Set of 4: jpg - gif - mp4
Please contact post@norecopa.no for any technical issues.
Thanks to Per Trystad for the icons.
Poster at the UFAW conference 29-30 June 2021

Presentation at the IAT congress 25 March 2021
This page was updated on 05 July 2023