A Color Atlas of Sectional Anatomy of the Mouse
By Iwaki, Takamasa; Yamashita, Hiroshi and Hayakawa, Toshiyuki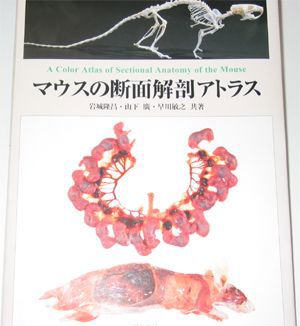 This atlas features an attempt to present specimens as they would appear in the living state. Therefore specimens were not treated, in order to obtain photographic information close to the living state. The atlas has 55 colour pages, 2 pages of black and white macro-anatomical photographs (angiographs), and 93 pages of colour sectional anatomical photographs (sagittal, dorsal and transverse sections). All pages consist of photographs to make the detail more comprehensive. The illustrations are three-dimensional rather than the usual pictorial atlas. The Appendix includes growth curves, organ weights and values for a large range of parameters within haematology and clinical chemistry. The anatomical terms are in Japanese and English. 

SKU: SECT-ANT. 185 pages. Colour atlas. Hardcover. More information about this atlas is available at Braintree. Please see record number 8167 for A Color Atlas of Sectional Anatomy of the Rat.
Also distributed by AgnTho's AB in Sweden.

ISBN: 4-900659-58-4

Price: US$286.00

Year: 2001

This is one of our favourite textbooks within Laboratory Animal Science.
This page was updated on 19 July 2023