Cephalopods: Ecology and Fisheries
By Boyle, Peter and Rodhouse, Paul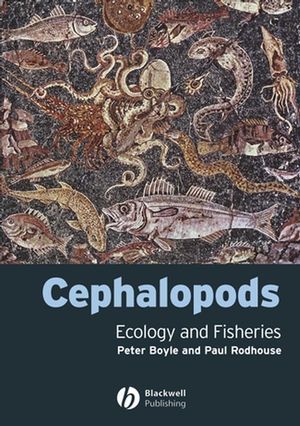 The marine mollusc group comprising the cephalopods (which includes squid, cuttlefish and octopus), is of great interest, not least following their protection under the EU Directive 2010/63.
This book is a thorough review of the animal group. The first introductory section of the book  provides coverage of cephalopod form and function, origin and evolution, Nautilus, and biodiversity and zoogeography. The following section covers life cycles, growth, physiological ecology, reproductive strategies and early life histories. The next section is on ecology, which provides details of slope and shelf species, oceanic and deep sea species, population ecology, trophic ecology and cephalopods as prey. The final section of this book deals with fisheries and ecological interactions, with chapters on fishing methods and scientific sampling, fisheries resources, fisheries oceanography and assessment and management methods.
First Edition. 464 pages. Illustrated Available as a Hardcover and eBook. Suitable for marine and environmental biologists, zoologists, ecologists, and fisheries scientists and managers. A Wiley-Blackwell Publication. Available from Wiley Online Library. 
ISBN: Hardcover: 978-0-632-06048-1; eBook: 978-1-4051-4543-5
Price: Hardcover: £185.00, eBook: £166.99

Year: 2005
This page was updated on 08 November 2022