Experimental Design and Reproducibility in Preclinical Animal Studies
By José M. Sánchez Morgado & Aurora Brønstad (Eds.)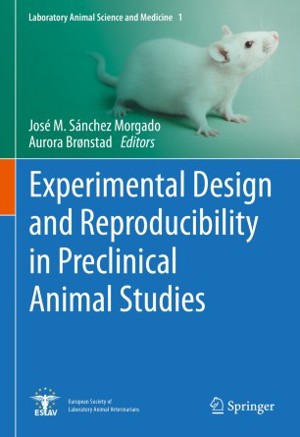 This book provides grounds on how to plan and conduct animal experiments that can be reproduced by others. It touches on factors that may impact the reproducibility of animal studies including: the animal genetic background, the animal microbial flora, environmental and physiological variables affecting the animal, animal welfare, statistics and experimental design, systematic reviews of animal studies, and the publishing process.
 
The book addresses advanced undergraduates, graduate students and all scientists working with animals.
Contents:
The Animal and Its Environment

Statistics: Basics and Explanation of Different Designs and Tests

Systematic Reviews and Publishing
Part of the Laboratory Animal Science and Medicine book series (LASM, volume 1).
ISBN: Softcover: 978-3-030-66149-6, Hardcover: 978-3-030-66146-5, eBook: 978-3-030-66147-2
Softcover: € 109.99, Hardcover: € 149.99, eBook: € 93.08

Year: 2021

This is one of our favourite textbooks within Laboratory Animal Science.
This page was updated on 28 November 2022