Laboratory Animals: Regulations and Recommendations for the Care and Use of Animals in Research
By Javier Guillen (Editor)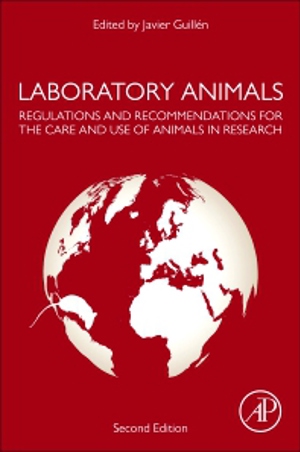 This book is the only publication to offer a global compilation of standards on the care, welfare and use of animals in research. It provides updated information that will be of great interest to professionals across laboratory animal science and biomedical research. Users will find a broad picture of the regulations required in other areas of the world that will be essential to appropriately manage animal care and use programs. The book replaces the First Edition which was entitled Laboratory Animals: Regulations and Recommendations for Global Collaborative Research.
Its key feature are:
Offers a worldwide view and global compilation of regulations, guidelines and recommendations for laboratory animal research
Provides insight into factors that play key roles in the regulatory framework for countries and geographic regions
Compares and contrasts regulations in different regions
Written in layman's terms to easily understand legislation and regulations

The book has been written for all professionals in laboratory animal science: animal care takers, technicians, veterinarians; investigators using animals in research; research institution administrators; and members of institutional animal care and use committees or ethics committees.
Table of Contents:
1. Principles: a Tool for Harmonization 2. Oversight of Research Animal Welfare in the United States 3. Canada's Oversight of Animal Use in Science 4. Laboratory Animal Science Legislation in Latin America 5. The European Framework on Research Animal Welfare Regulations and Guidelines  6. Israeli Legislation and Regulation on the Use of Animals in Biological and Medical Research 7. Animal Experimentation in Africa: Legislation and Guidelines 8. Laws, Regulations and Guidelines Shaping Research Animal Care and Use in India 9. Oversight of Animal Research in China 10. Laws, Regulations, Guidelines, and Principles Pertaining to Laboratory Animals in Far East Asia 11. Laws, Regulations, Guidelines and Principles Pertaining to Laboratory Animals in Southeast Asia 12. Laboratory Animals Regulations and Recommendations for Global Collaborative Research: Australia New Zealand 13.Global Guiding Recommendations.
Second Edition. 466 pages. © Academic Press 2018. Published: 25th October 2017 Imprint: Academic Press.
ISBN: Paperback: 9780128498804, eBook: 9780128498798
Paperback: €58.46, eBook: €58.46, Paperback + eBook: €77.94

Year: 2017

This is one of our favourite textbooks within Laboratory Animal Science.
This page was updated on 01 November 2022