Power Analysis: An Introduction for the Life Sciences
By Nick Colegrave and Graeme D. Ruxton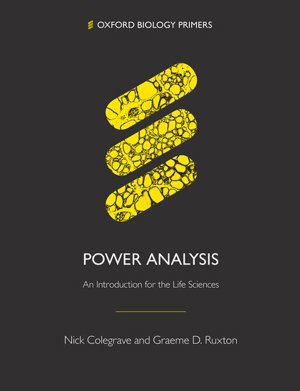 Written primarily for mid-to-upper level undergraduates, this introduction to power analysis in a biological context offers a clear, conceptual understanding of the factors that influence statistical power, and emphasises the importance of high power in experiments. It also explains how to improve the power of an experiment and offers guidance on how to present the outcomes of power analyses to justify experimental design decisions.
Table of Contents:
1: What is statistical power?
2:Why low power is undesirable
3:Improving the power of an experiment
4:How to quantify power by simulation
5:Simple factorial designs
6:Extensions to other designs
7:Dealing with multiple hypotheses
8:Applying our simulation approach beyond null hypothesis testing
The book is available for students and institutions to purchase in a variety of formats, and is supported by online resources:
· The e-book offers a mobile experience and convenient access along with functionality tools, navigation features, and links that offer extra learning support: www.oxfordtextbooks.co.uk/ebooks
· Online resources include multiple choice questions for students to check their understanding, and, for registered adopters, figures and tables from the book.
Price: £22.99
176 Pages
ISBN: 9780198846635

Year: 2020
This page was updated on 28 November 2022