Frog Dissection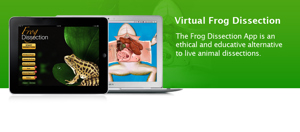 The Frog Dissection is a simulation app of wet lab dissection procedures. Students can dissect a virtual frog by performing the procedures done in a real dissection. The simulation includes the following sections: Start Dissection; All About Frogs; Human Versus Frog; Wet Lab Process; Quiz; Internal Organs (3 Dimensional); Videos; Types of Frogs. Key features are: Individual 3D organ views and information; Voice instruction and readings; Dissection tools including pins, marker, scissors, scalpel, and forceps; Detailed labels, information on frog classification, lifecycle, and organ functions of frogs; Anatomical comparison of human and frog organs. The images of the individual organs can be rotated so that students can view them from different angles. Detailed information on the organs is provided to help students learn the structure and function.
Comments & References: Suitable for Grades 3 and Middle School. Suitable as an alternative for real frog dissection. Please see http://frogvirtualdissection.com for more information on System Requirements, App screens and a short Demo. May be downloaded from the App Store in iTunes. Available as iPad App, Mac App, Intel Appup, for Desktop (Windows, Linus and Mac), and for Whiteboards. Size: 321 MB. Produced by Emantras Inc in collaboration with Punflay.
Price: iPad App: US$3.99; Mac App: US$4.99; Windows/Linus desktop: US$2.99; Whiteboard: US$2.99.
A collection of virtual anatomy and dissection resources suitable for home learning is available here.
Norecopa holds information on a large number of other alternatives to frog dissections and information on other dissection alternatives.
We also have information on:
Try our search engine if you can't find what you're looking for.
This page was updated on 08 June 2021
Did you find what you were looking for?
Yes, I found it!
No, I did not!
Thanks for your feedback! Please note that we cannot respond unless you supply your email address.
Thanks for your feedback! Please note that we cannot respond unless you supply your email address.