This page can be accessed from: https://norecopa.no/scruff
There is a Portuguese translation of this page.
If an animal is picked up by the scruff of its neck using a two-fingered technique, this has a tendency to create a longitudinal skin fold on the animal. This can tighten the skin over the throat and trachea, causing stress to the animal.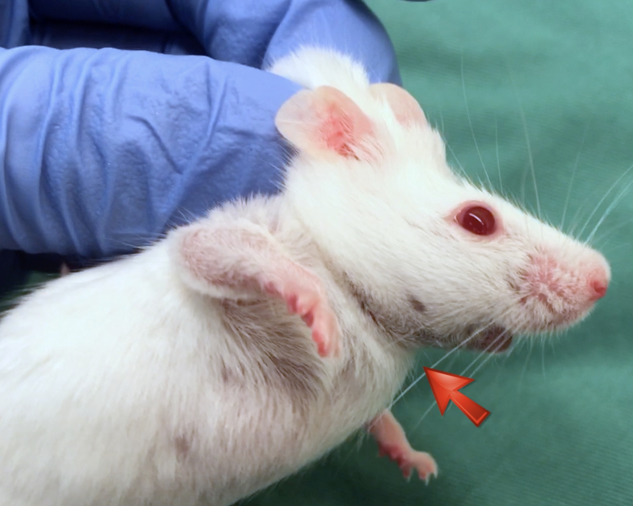 Video film of the technique:
Norecopa, in collaboration with the Norwegian University of Life Sciences, has produced a 2-minute video film, available in English and Spanish, illustrating a refinement of this technique using three fingers, which creates a transverse skin fold on the animal, thereby relieving the pressure on the throat:
Three fingers better than two: A refinement of the scruffing technique
Tres dedos mejor que dos: Refinamiento de la técnica de scruffing (piel de la nuca)
We welcome feedback about this technique!
We are very grateful to Rafael Frías for providing the text for the Spanish version of this film.
A poster of the technique (shown below) may be downloaded from norecopa.no/scruff-poster
Scientific documentation
Labitt et al. (2021), using validated smartphone-based ECG measurements, detected severe bradyarrhythmias during immobilisation in mice of both sexes and four strains using the traditional means of restraint which creates a longitudinal skin fold and ventral neck crease. The arrhythmias persisted for an average of 4 minutes after the mice were released. These effects were not seen with the three-finger method described on this page.
Henderson et al. (2020) examined anxiety-like behaviour in mice exposed to repeated scruffing with the standard method or with this three-fingered approach. They were, however, unable to detect significant differences between the two groups.
Our experience suggests that the three-fingered technique reduces clinical signs of stress such as gasping, cyanosis and exophthalmos.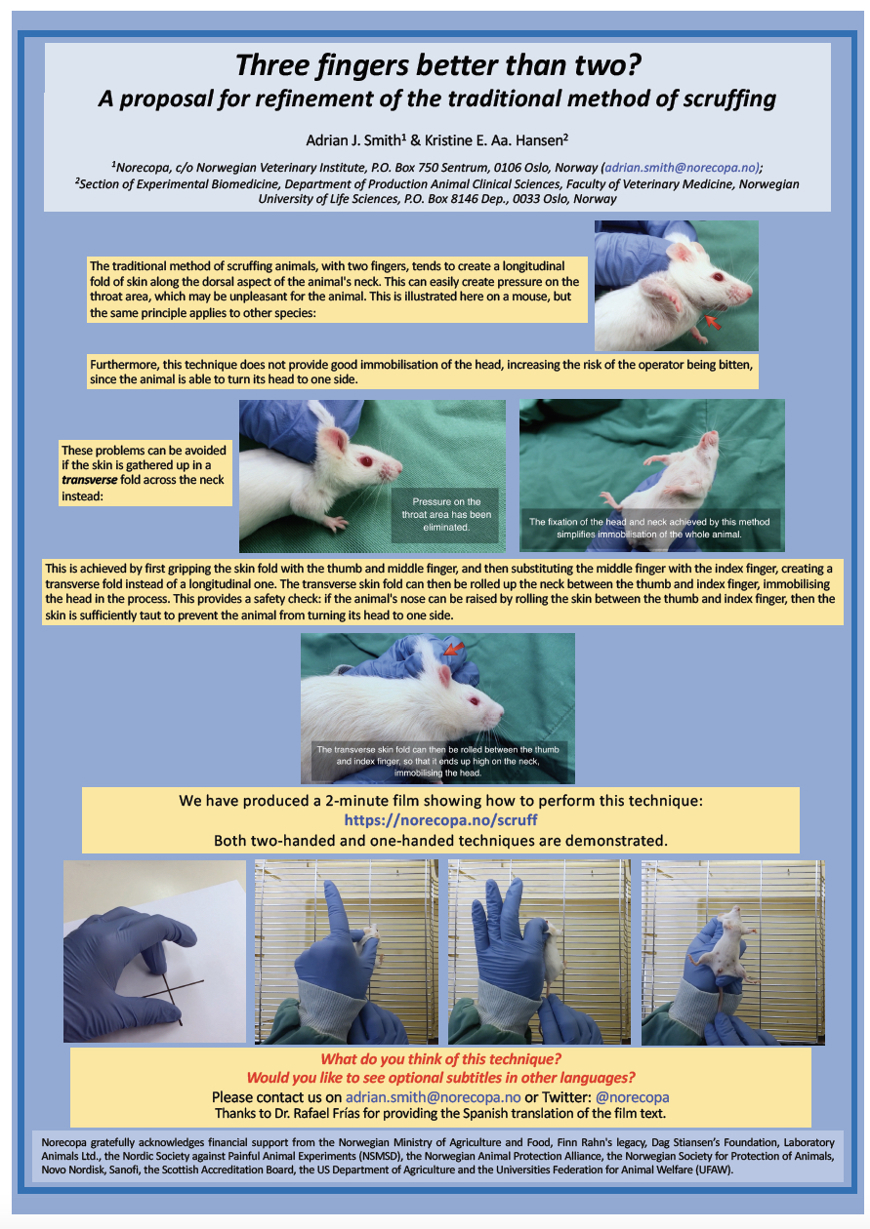 Further information
This technique was developed for immobilisation in connection with oral gavage or close inspection of the mouse. Subcutaneous injections were given using an approach with much less restraint, over the lower back, where a skin fold can be lifted up with the needle tip (as soon as it has penetrated the skin, and avoiding underlying muscle) to form a "tent" under which the injection is given.
This technique was developed to mitigate the effects of scruffing rodents when there was a need for complete immobilisation of the animal. Since rodents are prey in the wild, any form of immobilisation (however refined) is likely to be stressful and should be avoided if at all possible, or reduced to an absolute minimum. Many alternatives to the traditional methods of handling and injecting animals are now available, including micropipette-guided drug administration (MDA) (click here for links and see also the Refinement Wiki). 
More information on preparing for animal research and testing
Films and slide shows about other handling techniques
Homemade educational materials
Resources relevant to the covid-19 pandemic
Other teaching resources
Links to guidelines for the care and use of animals in research and testing
This page was updated on 05 July 2023