This section gives an overview of systems currently in use in Europe for severity classification of techniques and procedures, and for genetically altered (GA) laboratory animals. As an aid to the efforts being made to harmonise severity classification, we have collected existing official guidelines and and compiled their contents in tables, making it easier to compare them.
To avoid any misunderstandings, and to make the tables more user-friendly, we have also included examples of clinical signs.
An overview of the compilation is shown below (click on the chart to enlarge):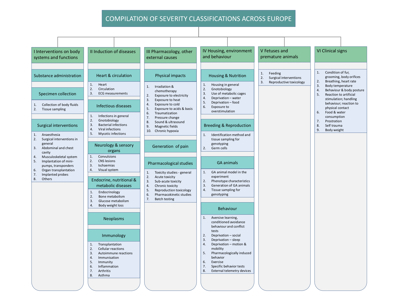 The compilation is, at present, based on catalogues of severity classifications in mammals. As the structure of available guidelines differs significantly, partial duplication was necessary to address all the categories in our compilation.  
The compilation covers
The background for this compilation:
Severity classification is an important factor in the project authorisation of animal experiments and mandatory according to Directive 2010/63/EU. The assignment to a respective severity category needs careful evaluation of the impact on the animals well-being. To facilitate a common understanding, and avoid decisions on a subjective basis, several guidelines are available on how experimental interventions could be classified. The guidelines are in use by scientists, Project Evaluation Committees and Animal Welfare Bodies. It is important to note that experiment-specific conditions, such as cumulative severity, setting early end-points or other refinements must be taken into account on a case-by-case basis, and may modify the recommended severity classification.
The following publications assist with the process of classifying procedures and experiments, and give examples to facilitate the evaluation process related to multiple-step procedures:

This work is the result of a collaboration between Anne Zintzsch (ICAR3R, Giessen), to whom comments should be sent; Jan-Bas Prins (Leiden University Medical Centre and the Francis Crick Institute); Nicolaos Kostomitsopoulos (Centre of Clinical, Experimental Surgery and Translational Research, Biomedical Research Foundation of the Academy of Athens); and Adrian Smith (Norecopa).
A poster presentation at the 2019 FELASA congress can be downloaded here.
This page was updated on 05 July 2023