As part of ongoing efforts to reduce waste and increase the reproducibility of animal research and testing, a group of experts from the UK and Norway, led by the Secretary of Norecopa, has produced a set of guidelines for planning animal experiments:
PREPARE (Planning Research and Experimental Procedures on Animals: Recommendations for Excellence)
The PREPARE guidelines for planning animal experiments complement guidance for reporting experiments such as the ARRIVE guidelines. PREPARE focuses on a large number of factors which, although they are seldom reported in scientific papers, can dramatically influence the validity and outcome of studies on animals, as well as the health and safety of all those concerned. They cover all stages of quality assurance, from the management of an animal facility or population to the individual procedures which form part of a study. The guidelines and checklist are based upon the authors' experience in running animal facilities, collaborating with researchers (including those working with farm animals, fish and wildlife), serving on advisory and regulatory committees, and planning their own animal studies.
PREPARE is NOT "yet another checklist to prove compliance"!
It is an aide memoire to remind scientists of all the topics which may be relevant when planning experiments, in the same way as even experienced pilots use several checklists on routine flights. Many of these topics do not need to be reported, but they are vital for the success of the experiment, for health & safety, and for animal welfare.
The 15 topics in the guidelines, with a large number of links to other more specific guidelines and resources, are discussed under the sections in the menu above. They include a suggestion for a contract between the animal facility and research group, to aid division of labour, costs and responsibility.
A 2-page checklist, available in many languages, can be downloaded here.
The guidelines paper is available free of charge in the journal Laboratory Animals under Open Access, thanks to financial support from UFAW (article metrics)
Links to new resources will be added as they are developed.
PREPARE will therefore be a living and dynamic set of guidelines which mirror developments in best practice within the field of research animal science and 3R-alternatives.
Web-based presentation of PREPARE (with sound), 17 minutes
Are you PREPAREd? How to design animal experiments (One-day course in Copenhagen, 19 March 2019) (the next one to be held in  Trondheim on 17 September 2019)
Endorsement and citations of PREPARE

PREPARE is cited in the UK Home Office ASPeL Project Licence Application Template for General Licences (under point D7.9)
PREPARE is cited by the Senate Commission on Animal Protection and Experimentation of the central independent German Research Foundation (DFG) in its Guidance on the 3Rs and the validity of animal experiments (in German and in English. The Commission advises the statutory bodies of the DFG as well as policy-makers and government agencies. In its advisory capacity, it also makes its expertise available to researchers, universities and research institutions.
PREPARE has been endorsed by ANZCCART (Australian and New Zealand Council for the Care of Animals in Research and Teaching)
PREPARE has been included in the Australian guidance Best Practice Methodology in the Use of Animals for Scientific Purposes, published by the National Health and Medical Research Council (NHMRC) in December 2017
The Association for Assessment and Accreditation of Laboratory Animal Care (AAALAC International) has added PREPARE to its list of websites for Institutional Animal Care and Use Committees (IACUCs) and comparable Oversight Bodies.
The ASAB (Association for the Study of Animal Behaviour) and the ABS (Animal Behavior Society) have endorsed the use of the PREPARE guidelines, and in their guidelines for the treatment of animals in behavioural research and teaching they recommend that authors refer to these.
EFPIA have published an Industry Statement on Experimental Design, which supports the use of PREPARE as one of three resources for planning, reporting and publishing in vivo studies. 
In the manuscript submission guidelines for the Journal of Psychopharmacology, 'authors are strongly encouraged to consult the PREPARE guidelines'.  
The primer on research involving animals produced by the UK Research Integrity Office (UKRIO) in February 2019 describes PREPARE as 'current best practice for laboratory animal science'.

The University of Leicester

​ 'supports the PREPARE guidelines and encourages all researchers to read through the checklist.

The University and Home Office would also recommend the use of the PREPARE checklist for preparing grant applications.'

Lund University in Sweden is in the process of embedding the PREPARE checklist in their requirements for scientists applying for permission to perform animal research
Are we 

are in danger of spending too much time discussing the quality of the lock on the stable door after the horse has bolted? 

Improving animal research: PREPARE before you ARRIVE (Letter to the BMJ) (metrics)
PREPARE has been endorsed by Ellegaard Göttingen MInipigs.
PREPARE was highlighted in the January edition of the newsletter of the National Centre for the 3Rs (NC3RS) in the UK.
Are you aware of PREPARE? An article by the Swiss 3R network
PREPARE is highlighted in the paper Promoting and improving 3Rs practice: the Korean guidelines, published in BMB Reports in December 2017
PREPARE is mentioned in a Norwegian-language article about the testing of new medicines (Tester medisiner på dårlige dyrestudier) in the magazine issued by the Norwegian National Research Ethics Committees
Please contact Adrian Smith at Norecopa for more information.
Please note:
The list of items in PREPARE is offered as a guide and should be adapted to the individual research project, animal species and location. Some elements will be the responsibility of the animal facility itself, rather than the individual research group, since they determine the standard of the facility as a whole. However, a research project often raises questions which are not covered by the facility's normal work routines. These include activities which have potential health and safety risks, such as the use of micro-organisms, ionising radiation and carcinogens. Early and open dialogue between the facility and research group, to create a good atmosphere for collaboration, is therefore essential. For example, if a facility cannot safely conduct an experiment without structural changes or investment in new equipment, this should be discussed with the research group at an early stage, however tempting it may be to start collaboration on a prestigious project. Animal welfare and ethics committees can be a useful forum for some of this dialogue.
The PREPARE co-authors:
Adrian J. Smith1, R. Eddie Clutton2, Elliot Lilley3, Kristine E. Aa. Hansen4 & Trond Brattelid5
1Norecopa, c/o Norwegian Veterinary Institute, P.O. Box 750 Sentrum, 0106 Oslo, Norway; 2Royal (Dick) School of Veterinary Studies, Easter Bush, Midlothian, EH25 9RG, U.K.; 3Research Animals Department, Science Group, RSPCA, Wilberforce Way, Southwater, Horsham, West Sussex, RH13 9RS, U.K.; 4Section of Experimental Biomedicine, Department of Production Animal Clinical Sciences, Faculty of Veterinary Medicine, Norwegian University of Life Sciences, P.O. Box 8146 Dep., 0033 Oslo, Norway; 5Division for Research Management and External Funding, Western Norway University of Applied Sciences, 5020 Bergen, Norway.
Citation:
Smith, AJ, Clutton, RE, Lilley, E, Hansen KEAa, Brattelid, T. (2018): PREPARE: Guidelines for planning animal research and testing. Laboratory Animals, 52(2): 135-141. DOI: 10.1177/0023677217724823
The costs of Open Access publication of the PREPARE guidelines and the production of conference posters were kindly provided by the Universities Federation for Animal Welfare (UFAW). The paper was pre-published on 3 August 2017 and published in the paper version issued in April 2018.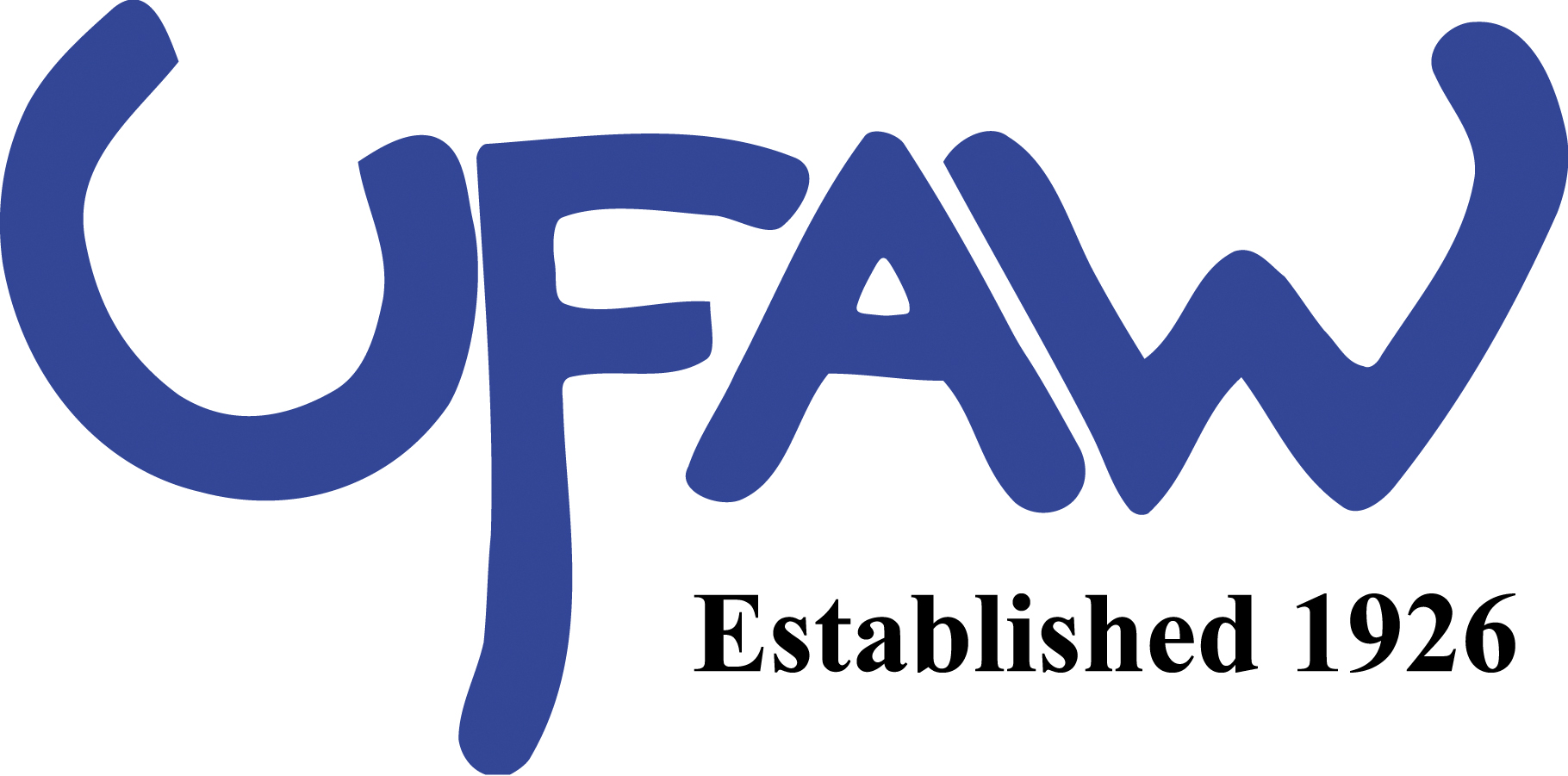 Click on the picture to see a 3-minute film about PREPARE.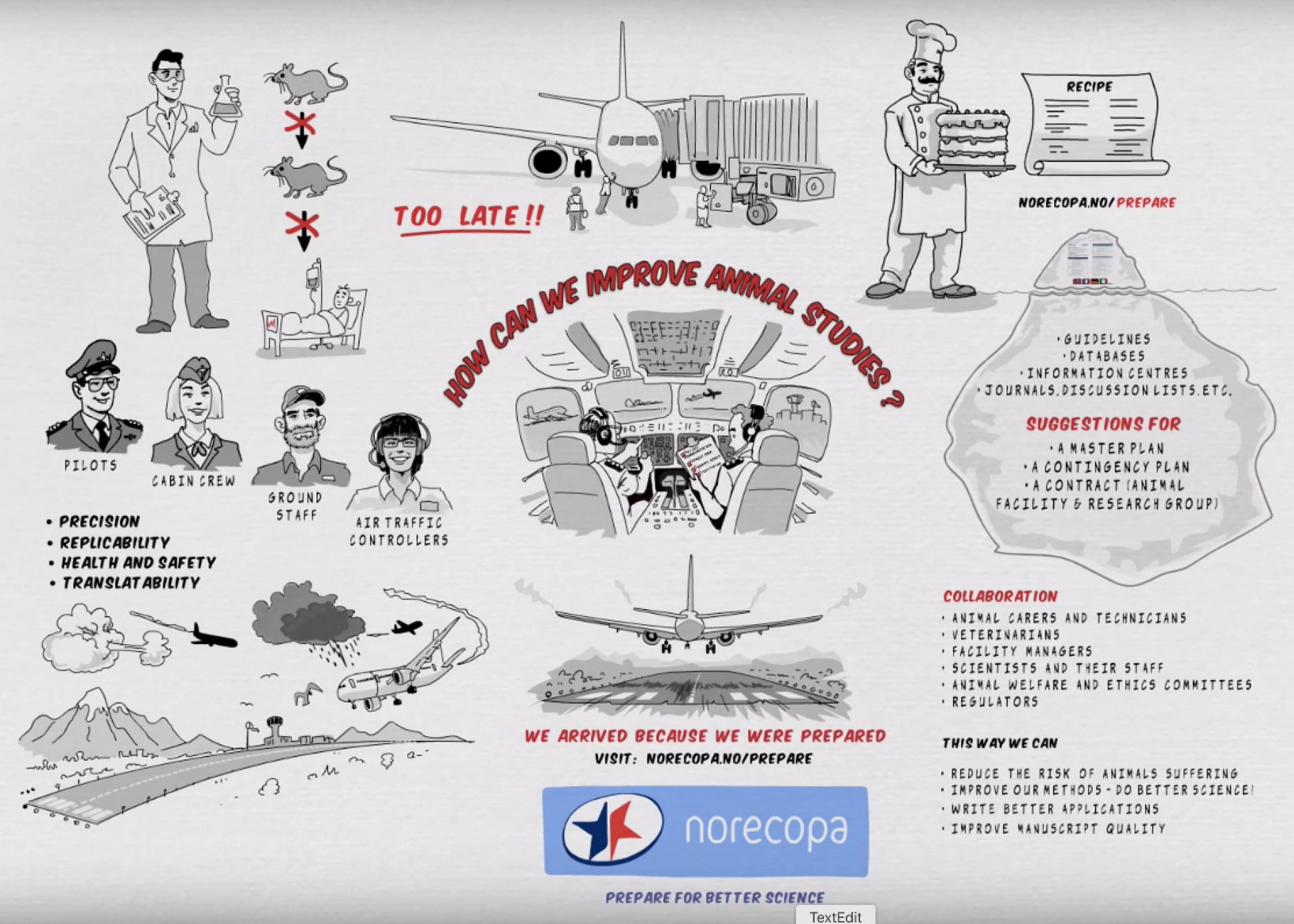 This page was updated on 04 February 2020
Did you find what you were looking for?
Yes, I found it!
No, I did not!
Thanks for your feedback! Please note that we cannot respond unless you supply your email address.
Thanks for your feedback! Please note that we cannot respond unless you supply your email address.