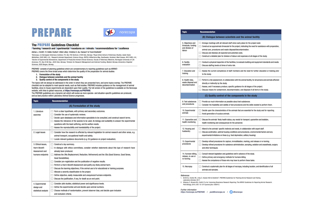 The PREPARE guidelines include a two-page checklist, which summarises the 15 topics in PREPARE. The checklist is available below for free downloading and use (no further permission is needed).
Please note that the checklist is only the "tip of the iceberg" of PREPARE. Each topic on the checklist has its own webpage (see left margin), with links to the latest resources.
The English-language version of the checklist is the version which is considered to be the definitive one by the authors of the PREPARE guidelines paper, if there are doubts as to the meaning of a translation.
Arabic | Simplified Chinese | Czech | Danish | Dutch | English | Finnish | French | German | Greek | Bahasa Indonesia | Italian | Japanese | Korean | Latvian | Norwegian | Persian (Farsi) | Polish | Portuguese | Portuguese (Brazilian) | Russian | Spanish | Swedish | Thai | Turkish |
Do you have comments on the quality of the translations, or would you like the checklist to be translated into another language? Please let us know!
Thanks to Allkopi Kristiansand for constructing the checklist files; FastTranslator for most of the translations; the Danish 3R Center for the Danish translation; the Swedish 3R Center for the Swedish translation; Fitriya N. Dewi and Imelda L. Winoto, Indonesian Association for Laboratory Animal Science; and to many other colleagues for valuable comments.
This page was updated on 21 June 2021