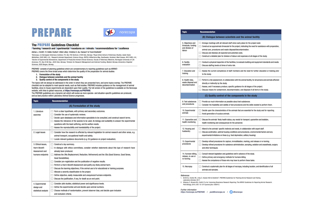 The PREPARE guidelines include a two-page checklist, which summarises the 15 topics in PREPARE. The checklist is available below for free downloading and use (no further permission is needed).
Please note that the checklist is only the "tip of the iceberg" of PREPARE. Each topic on the checklist has its own webpage (see left margin), with links to the latest resources.
The English-language version of the checklist is the version which is considered to be the definitive one by the authors of the PREPARE guidelines paper, if there are doubts as to the meaning of a translation.
Arabic | Bosnian | Catalan | Simplified Chinese | Croatian | Czech | Danish | Dutch | English | Estonian | Finnish | French | Georgian | German | Greek | Hungarian | Bahasa Indonesia | Italian | Japanese | Korean | Latvian | Norwegian | Persian (Farsi) | Polish | Portuguese | Portuguese (Brazilian) | Russian | Serbian | Slovakian | Slovenian | Spanish | Swedish | Thai | Turkish | Ukrainian
Electronic versions
The PREPARE checklist is now also available in two electronic versions:
A Word file with text fields:. The boxes can be ticked when the topics have been addressed. Suitable for sharing within a research group, for example via Dropbox or Google Drive. Short address: norecopa.no/PREPARE-Word A Turkish version is also available (credit: Sinan Kandir).
An online version, Mychecklist. Group members create a checklist, with a unique address which they can share with each other. Boxes that are ticked are immediately ticked on all copies of the file, so that all members can follow the work in progress. The text, however, is stored locally on the user's computer. No sensitive data is stored online, not even the user's IP address. Short address: norecopa.no/PREPARE/Mychecklist
 
Recordings of webinars sorted by the topics on the PREPARE checklist 
Do you have comments on the quality of the translations, or would you like the checklist to be translated into another language? Please let us know!
Thanks to Allkopi Kristiansand for constructing the checklist files; FastTranslator for most of the translations; the Verlab Research Institute and Azra Ademovic for the Bosnian translation; Sara Capdevila Larripa for the Catalan translation; Dasa Seveljevic-Jaran for the Croatian translation; the Danish 3R Center for the Danish translation; Vootele Voikar, Kai Okva and Jane Varul for the Estonian translation; Tamar Gvasalia and Irine Kvatchadze for the Georgian translation; Kornél Demeter for the Hungarian translation; Barbara Jozef for the Serbian translation; Mojmír Mach (CEM) & Helena Kanďárová (SNP3Rs) for the Slovakian translation; Martina Perše, Malan Štrbenc, Duško Lainšček, Tatjana Pirman, Sergej Pirkmajer, Maša Skelin, Simona Kranjc Brezar, Katja Škulj & Tina Arič for the Slovenian translation; the Swedish 3R Center for the Swedish translation; Yelyzaveta Borko for help with the Ukrainian translation; Fitriya N. Dewi & Imelda L. Winoto, Indonesian Association for Laboratory Animal Science; and to many other colleagues for valuable comments.
This page was updated on 08 May 2023