The PREPARE guidelines include a two-page checklist, which summarises the 15 topics in PREPARE, with the key recommendations for each point. The checklist is available below. Each of the 15 topics has its own webpage (see the menu above).

We have also made a suggestion for a contract between the animal facility and research group, to aid division of labour, costs and responsibility. The webpages above include practical suggestions on how to check whether an animal facility is ready for the experiments you plan.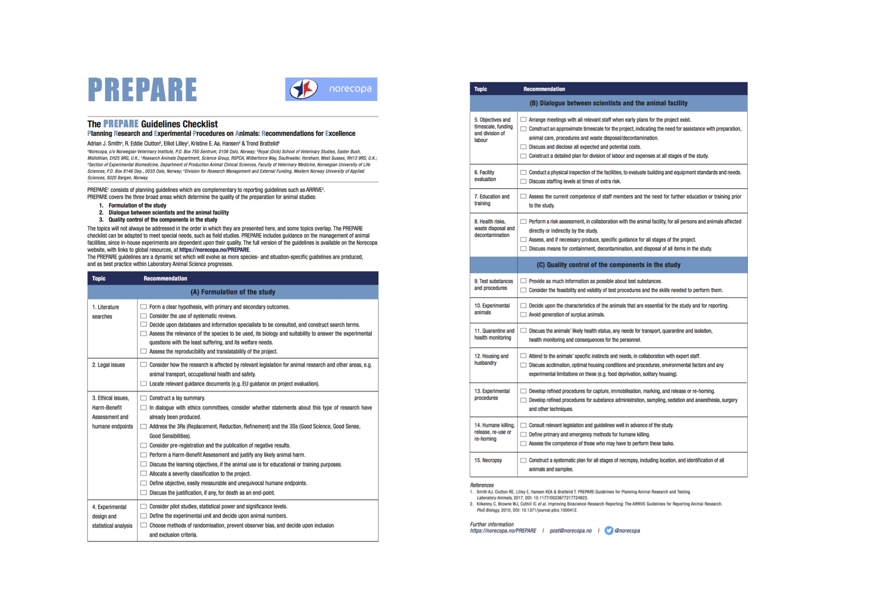 The PREPARE checklist is available here as a pdf file for free downloading.
Please note: the English-language version of the checklist is the only version which has been approved by the authors of the PREPARE guidelines paper.
Many of the translations below have been made by a professional translation company not connected to the authors or Norecopa. There may be differences from the English original, over which we have no control. If you are in doubt as to the meaning of a sentence, please check the English version.
Danish
English
Finnish
French
German
Greek
Italian
Japanese*
Korean
Mandarin Chinese
Norwegian
Portuguese
Portuguese (Brazilian)
Russian
Spanish
Swedish
Turkish

Do you have comments on the quality of the translations, or would you like the checklist to be translated into another language? Please let us know!
*We have been advised that the quality of the Japanese translation can be improved, and we will post a new version as soon as this is available.
Thanks to Allkopi Kristiansand for constructing the checklist files; FastTranslator for most of the translations; the Danish 3R Center for the Danish translation; the Swedish 3R Center for the Swedish translation; and to colleagues for valuable comments.
Did you find what you were looking for?
Yes, I found it!
No, I did not!
Thanks for your feedback! Please note that we cannot respond unless you supply your email address.
Thanks for your feedback! Please note that we cannot respond unless you supply your email address.